October 8th, 2014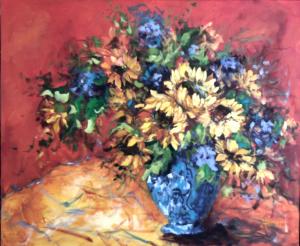 Of all the flowers I have painted over the years, the Sunflower wins hands down as my favorite. Why is this so? The Sunflower shows stalwart strength yet vunerable flexibility. She stands vertical..tall..adding contrast to the turquoise sky. She stands strong and capable to weather the winds and storms of life as living raw and fully open.

The Sunflower is maternal a provider of life, generous: offering nourishment to the many birds and animals that are drawn to her nourishing seed; snacks for we humans..raw or toasty and salted. The Sunflower shares her abundance with a gracious heart.

The Sunflower is beautiful in all her stages of development: as she unfurls her buds; is in full-open spectacular splendor; or naturally drying, curling, withering as she ages. Her life span is long, each living phase building on itself, becoming more and more unique.

The Sunflower shares the painters' dream: expressive petals and leaves that curve and tangle; rich, deep, radiant colors of cadmium yellow, cadmium yellow- orange, orange, burnt sienna, bronze, red, deep greens. Her colors are intense like the lowering Sun at Sunset, thick, heavy with impasto stroke work. The Sunflower reminds me of different cultures, each variety has its own strengths, lessons and values.

Painting the Sunflower in its many varieties, sizes and colors makes me happy, content and feeling like I am using my time wisely. SUNFLOWER the very name makes me SMILE. Sharon

To see the post in its entirety click on the webs link.
March 14th, 2011

Heidi Hemming and Julie Hemming Savage are intelligent, articulate, talented women with a shared message. They co-wrote a very important and timely book I have wanted to share.

March continues to be International Women's Month therefore this seemed the perfect time to introduce Julie and Heidi's book to you.


Women Making America has a place in everyone's personal library, for it is a story of the backbone of our country--the women and the causes they struggled, fought for and attained.

And for you readers who live outside of America, we honor your heritage; your personal history, those women who have made a difference, paved the way for your generation to live with more equality, freedom and a voice that is heard.

Thus this isn't just an American book, but a historical appreciation and reminder for how far women have come world wide.

Now may the message extend to our sisters and daughters who live in countries where a woman's voice is still SILENCED.

Today's post provided by Heidi Hemming

Author Pearl S. Buck once said that writing her books was like being " a juggler trying to keep a handful of balls aloft at once. . . . Were I a man, my books would have been written in leisure, protected by a wife and a secretary and various household officials. As it is, being a woman, my work has had to be done between bouts of homemaking." All I can say to that is "amen sister." When my sister and I started writing Women Making America in 2003, we had busy lives and five children, ages two to ten, between us. Our project was carried out in the midst of homework assignments, hastily prepared meals, and Girl Scout cookie sales. But our commitment arose from a passionate love of women's history and our realization that as educators we could not find one chronological history of American women written at a level accessible to readers of all ages. How would students discover that women have been full participants in the American story if there weren't the resources to teach?
Our efforts resulted in a book entitled, Women Making America: a colorful whirlwind tour of what it would have been like to be a woman living in any given era of American history. How would it have felt to get up every day and put on a corset, layers and layers of clothes, and top it off with a huge hat? What could have motivated a group of young crew team members to march into the Yale athletic director's office, take off their shirts to reveal "TITLE IX" scrawled across their chests? And what was Ellen Church doing wearing that silly cape and little cap, pushing a plane into its hanger? Throughout the book we included reoccurring themes such as health, home, amusements, paid work, and beauty to provide a lens for both change and continuity over time.


Race, geography, culture and class have all shaped the experience of womanhood in significant ways. In this version of history, slaves, Japanese picture brides, and poor seamstresses appear side by side with more well-known icons of women's history. Central to the story is the idea that we are all history-makers, and that the choices we make matter. To parenthesize this, each chapter begins with a choice, from slave Satira Turner walking away from her master with Christmas dinner still on the stove, to Louise Rosine refusing to roll up her stockings on a hot 1920s Chicago beach. As much as possible, we used anecdotes and women's own voices to describe what they did and how they felt about it. The result is a narrative in which we see ourselves, our mothers, and our grandmothers.


Not long after Women Making America was published, our editor's eight-year-old daughter had a friend over to play. In the course of the game, he insisted that girls were not as capable as boys. "Wanna make a bet?" she responded, and ran to show him the book.

We know women's history matters, but so should everyone else. You can find this book on Amazon.




March 12th, 2011
It started with a phone call from my good friend, Dale. She called early in the morning, her voice rather hesitant. She wondered how I was. Fine! More hesitancy. Finally I had to ask what seemed to be the matter. She remembered that we have a son and family living in Asia and couldn't be sure if it was Japan. I told her they were in Singapore. Then she gave me the news of the earthquake in Japan.

Watching little TV, I was UNAWARE...totally UNAWARE of such a horrible disaster. How could I not sense something like this happening. I am no longer 'unaware.'

One month ago we were twice in the Nakita Airport, an enormous international, hub airport in Japan. It was clean, open spaced, pleasant. I took photos, visited the shops before our next flight to Singapore. I purchased cards of happy people doing everyday things.

And now the airport is shut down. I won't belabor the point.

So what can the average citizen of the world do to help?

I did some searching and located some sites and other postings. I want to share what I found.

For inquiries/ American citizens living in Japan: 
U.S. Department of State, Office of Overseas Citizens Services at +1.888.407.4747 or +1.202.647.5225

For inquiries/UK citizens living in Japan:
UK Foreign Office Helpline number at +44(0) 20.7008.000 or japan.earthquake@fco.gov.uk


American Red Cross:
Disaster Alert: Earthquake in Japan, Tsunami warnings
To donate US$ 10 to the American Red Cross, text REDCROSS to 90999 to help Japan.

Canadian Red Cross:
To donate for Japan Earthquake Relief, click here.

Global Giving:
To donate to the Global Giving Japan Earthquake and Tsunami Relief Fund, click here.

Good Will: Good Will

Salvation Army:
To donate US$ 10 for earthquake relief, text JAPAN or QUAKE to 80888 or visit SalvationArmyUSA.org

Doctors Without Borders/MĂ©decins Sans Frontieres:
Click here to donate.

Network for Good:
Click here to donate. This website will link you to many other websites.

When you hit the 'click here' phrase, a long line will pop up. Click on the main name of the website and you will go directly to that site.

Please feel free to copy and send this posting to all that you know. Add your own information. And may the WORLD'S people be generous, when generosity is needed in so many places on this Earth.
March 1st, 2011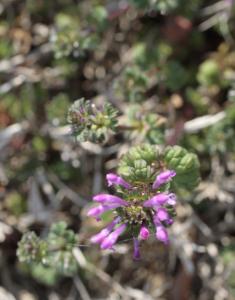 The drive was unremarkable.
An every day bend in the road
changed my point of view.

A shimmer of lavender
floated
amidst dry winter stalks.


Bend down.
Look closely.
Observe.
Seek the details
in the living.



Miniature life
green with spring hope.
Pushing upward
against the odds.
Facing the sun.



Patiently waiting
her Crown of Royalty.
Queen of her own domain.

The smallest of earth's creations
await our singular attention.
August 10th, 2010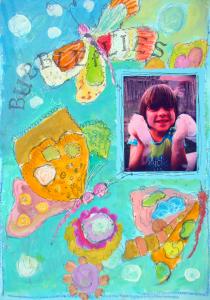 It was rather warmish outside. Fading Dusk. Just right for a Bubble Fairy to POP by.

The double tiered fountain was gurgling away while the Funny Bunnies blew bubbles from tiny green bottles. Waving their magic wands, bubbles jumped in and about the fountain, danced across the lawn evaporating into the warm evening air. One Funny Bunny, lip slightly drooping, lamented, " I wish the bubbles would last longer. I want them to dance on my nose!"

Now every one knows that Bubble Fairies have very keen hearing. And this particular Bubble Fairy was passing by the garden when she heard the Funny Bunny's sad words. Ever so silently the Bubble Fairy slipped quietly to the gurgling fountain and put Fairy Bubble Syrup into the water. (Fairies love SWEETS.)

Humming her best fairy song, the Bubble Fairy, like the best of bubbles, evaporated into the air, leaving a hazy iridescence hovering over the fountain.

Ever so rapidly, faster than a blink of a lady bug's eyelashes, silky foam dusted the top of the fountain. POOF ONCE--POOF TWICE--POOF--THRICE-- it GREW and GREW and GREW until enormous, billowing pillows of BUBBLES danced over and under the fountain.

Well, you should have seen the faces of those two little Funny Bunnies, ASTONISHMENT, they couldn't believe their eyes. The bubbling fountain looked like a DOUBLE Cupcake slathered in foamy FROSTING! And then the FUN began,


"Who left all the beautiful bubbles?" asked the Funny Bunny.

Meringue Bubbles everywhere, sticking like stamps on a postcard.

"My WISH came TRUE. Bubbles to tap on my NOSE!"


Nighttime with its velvet blackness arrived too quickly. The stars came out and the bubbles continued to match the radiance of the twinkling stars. The Funny Bunnies went to bed dreaming their bubbly dreams. The Grammy of the house spent the night scooping armfuls of bubbles out into the night air, quietly THANKING the BUBBLE FAIRY for hearing a child's heartfelt WISH!


Bubble Fairy Inspiration

Remember to ALWAYS speak the WISHES of YOUR HEART!
If you wish to see the photos, art journaling pages with this blog go to: www.sharonfurner.blogspot.com
January 8th, 2010
Forgotten Children
Today there is a greater awareness of the need to recycle, preserve our natural resources, to live more thoughtfully and deliberately. There is a growing, burgeoning awareness for Earth, our collective home. Even more important are those, the individual human beings who live fragile, fearful, fragmented lives in extreme poverty, war, genocide, human trafficking and natural disasters.
One cannot RECYCLE human beings.
A portion of my painting time I devote to keeping in mind these Forgotten Children. This last year I focused upon children who live in Rwanda, Congo, Indonesia, Afghanistan and Tibet. Each painting depicts children of dignity and grace.
One cannot RECYCLE human beings.
But the painting substrate could be composed of recycled materials. I set about the task of using no new substrate/panel/canvas. The paintings would solely be formed from discarded, salvaged items. It was fantastic coming up with all sorts of materials: old chopsticks, bent wire, discarded cardboard, newspapers from countries I have visited or friends sent to me, torn cheesecloth, advertisements, junk mail, used metal, corrugated cardboard, sacred prayer papers, doilies and earth pigments.
Looking at my pile of USED items, I knew I had a huge puzzle on my hands. So slowly I started piecing bits and pieces together. I formed the "new" canvases, by gluing, stapling, wiring and wrapping.
Now the fun began, as I decided what type of child/children to paint of these surfaces. It was a challenge worth taking.
Some of the Forgotten Children series were part of an exhibition, Living Green. I rather stretched the meaning.
These pieces are sold to support a charity I find great joy in. Many have read Three Cups of Tea by Greg Mortensen. I am now reading his new book, Stones into Schools. His story is so inspiring that I made it a goal to send donations through the sale of art appropriate for his cause. www.penniesforpeace.org www.ikat.org The message I receive from his life is that ONE person can make a difference. We can all be that ONE person.
See website for more in the series of Forgotten Children. www.sharonfurner.com
January 4th, 2010
TRUTH: I am in love with my iphone! My computer tags along with me wherever I go. My printer is my trusty friend. I love all electronic gadgets. A good day is browsing through Best Buy!


TRUTH: I want to be semi-literate in the electronic age of. Facebook, Blogging, Photo Editing, Websites...you name it and I want to do it. DO IT ALL!!!!


BEDEVILMENT: if you spot a red head with smoke coming out of her ears; glowing eyes neon pink; fingers trembling like the last lonely leaf on the tree, it is probably ME trying to learn all these Modern Day Madness methods of COMMUNICATING!


Case in point: PHOTOSHOP. All around me are magazines with glossy pictures created in Photoshop; open any blog and the writer "touches up" her offerings in Photoshop!!! Hundreds of magazines and books devoted to its devotees.


TRUTH: I have taken two classes (albeit years apart) in Photoshop. Bought updated programs. Own three books (and not the Dummies kind.) My sister a PHOTOSHOP-GENIUS sent me a 100.00 book, top tier! And still the hair on my head sizzles! So I wishy-washy between Picassa and Photoshop. What is a girl to do?????


TRUTH: I signed up for an online course given by djpettit. http://www.djpettitt.com/ a wizard at manipulating photos to seriously die for. It starts this week. Don't tell my family, please!


BEDEVILMENT: we had to download a form of a zipped file!! Zipped file, I thought only pants and skirts had zippers! Okay, she suggested Stuffit Expander. At midnight, I did just that. And promptly LOST it. I searched for hours for Stuffit...I was ready to tell it where to stuff it I was so frustrated. I limped to bed with my tail between my legs, this just wasn't fair, my heart was in the right place, just not my brain. So this morning after I finish writing, I will start all over again. RESOLVE!!


TRUTH: this isn't the last that I will write concerning Photoshop. I will post my first efforts...and I hope you will all applaud!!!
January 7th, 2009
The Bottomless Cup, a new gourmet coffee house has opened in Havre de Grace, Maryland. The owners, Collin and Debbie Preston are fulfilling their long time dream of opening a coffee house featuring ambience and charm, drive through window (for those in a bit of a hurry) and delicious, freshly roasted gourmet coffee. This is no ordinary coffee house. On Sundays they feature jazz music, speakers, writers and interesting people with interesting hobbies to share. They kindly invited me to exhibit my latest paintings of Provence, France. I spent the summer in France and Switzerland and was thoroughly immersed in the culture, people, and beautiful villages. As a result of this trip I have been painting my impressions some of which are featured in their coffee house. The warm golden walls complement my signature palette of intense saturated color. Enjoy a cup of gourmet coffee and pastry surrounded by sunny Provence.
If you live in the area, do drop by. You will be glad you did. They also have a new website www.thebottomlesscup.com that gives you lots of information and directions.


December 18th, 2008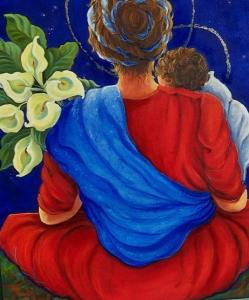 "The Eskimo has fifty-two names for SNOW because it is important to them. There ought to be as many for LOVE." Margaret Atwood

Read poetry aloud to a shut-in.
Write your Congressman a thank you note.
Trade smiles with a passer-by.
Slip a note into a book, stating why you enjoyed it, for the next reader to discover.
Plant an amaryllis or tulip bulb and give a bit of color to another during winter months.
Hold hands with the elderly.
Knit gloves and neck scarves for an orphanage.
Send news/magazine clippings of interest to others.
Build a birdhouse for a neighbor. Better yet, paint it bright colors.
Take photos of children and share with a person who lives with loneliness.
Bag a few cookies, wrap with a bow and present to a Salvation Army bell ringer.
Keep dollars in a pocket to slip into the red bucket.
Paint a picture for a senior citizen center, somewhere that can use a bit of cheer.
Stitch a quilt or funky bag for a woman's abuse shelter.
Donate a few hours monthly to a worthy cause.
Pray daily for Peace and an end to Poverty.
Be a Fairy Godmother to a neglected child.
Change one's mind, attitude and perceptions.
Hug another.
Donate gently read magazines to a doctor's waiting room, hospital, hair salon, senior's home.
Take a bowl of ripe fruit to a neighbor.
Choose a charity that really makes your heart happy.
Hang a world map on a wall, mark where different people live that we want to better understand.
Be a fabulous friend to someone seeking friendship.
Read often to a child.
Listen deeply when another speaks.
Understand and learn about other cultures' important holy days.
It is funny being human, share your humorous stories, generously.
Happiness multiplies when it is shared.
For one day, only say "YES".
Enjoy a meal, meditating upon what it means to not go hungry.
Attend a different church, denomination for one Sunday, reflect upon the commonality.
When we see sadness in others, catch their tears.
Forgiveness multiplies and melts away rigid positions.
Print "Permission" slips and hand out to others who need to be kinder to themselves.
Stop, breathe and take a single moment to discover some layer of enjoyment.
Create an "Adventure/Treasure Hunt" for a child.
Hang a chalkboard in an accessible place, write weekly affirmations.
Believe in the Power of One.
Notice and celebrate daily miracles. Miracles multiply when shared..
Hand out popsicles in the park.
Visit one art museum with a child, spouse, friend or person for a special experience that will be long remembered.
Donate to charity items that are worthy of our brothers and sisters.
Invite friends over for an "art night" Create-Carve-Paint-Glue-Design something unique.
Tithe your talents to another, an organization, a worthy cause. Give liberally.

BE AN ADVOCATE FOR CHILDREN, OTHERS OF ANY AGE WHO ARE NEGLECTED, MISTREATED, AND HOMELESS. BE AN AGENT OF CHANGE.


November 16th, 2008
"I wish for the whole world to have strawberries and good food." Words written by a young artist-child invoking her wish for the people of Darfur and other areas in the world where conflict is an every day event.

Sunday we drove to DC to participate in the last day of the Tents of Hope interfaith weekend of prayer and action for Sudan. Communities across America and abroad transformed canvas refugee tents with liberal doses of paint and love into unique works of art that express compassion and desire for peace for the people of Darfur and surrounding areas.
We walked out of the Air and Space Museum to view a magnificent panoramic sight. Over 350 tents, lined up like colorful soldiers, stretched down the length of the Smithsonian Mall grounds. One speaker noted, "We are only passing through, this world is our family." Looking at the colorful tents, this is our family, this is our world, and these are our people. And our people live desperate lives.

Dr. Clements, "…so when genocide is happening and we stand idly by we are part of it." Within view of the stage where the speakers and entertainers stood, is the Native American Museum. This is an American genocide. Three blocks south, stands the National Holocaust Museum. In Rwanda, I have written to four different women, one year each, all directly affected by that genocide. Kosovo is the same. And in each case of unfettered genocide the world stood idly by, taking action after thousands had died.
It is difficult to imagine entire families living in these small tents, which barely give protection against the winds and heat. Tiny patches of vegetables, scratched out in the parched soil, cooking fires, flirting with the flimsy canvas, this is real life.

Many displaced, refugee camps have been systematically destroyed by Omar Al-Bashir's forces. Each sign represents a village that is gone, vanished, destroyed.
One citizens group is making efforts to provide solar cooking panels to the camps and teaching people how to use them. This helps to reduce the need for gathering firewood, which often results in the women and girls being caught and raped. The men do not go out for wood because they are killed, girls are sent because they are raped and not killed. ( I suppose that depends upon what you consider death.) At the end of the day the tents were dismantled, wrapped and ready for shipping to Sudan. Money raised over the weekend was to help defray costs of shipping.

Visit www.savedarfur.org to learn more about the Sudan. There is a web stream slide show of the entire weekend. Also on this website you can sign an e-postcard. The goal is to collect one million signed postcards to present to President-elect Obama on April 26th. President Obama will be 100 days into his presidency, the coalitions to stop genocide, will invite him to the Smithsonian Mall and give him the million post cards. You can do it on line if you would like to lend your voice.
It was such a humbling experience to be amongst these tents, thinking of those who painted them and who would live in them; focusing on this event which shouldn't be happening; putting a face to those who have committed untold hours and dollars to help these people; watching the youth; our country is in good hands with this new generation of compassionate, vocal, intelligent younger adults. These young people will be the generation who provide strawberries for those who are repressed.